Sveiki Britų Kolumbijos lietuviai, bendruomenės nariai ir draugai. Džiaugiamės pasidalindami su Jumis informacija apie būsimus mūsų renginius.

Šiame numeryje:
Andriaus Mamontovo koncertas Vankuveryje rugsėjo 16d. (liko labai mažai bilietų!), Joninių šventimas kartu su Estų bendruomene birželio 24-25d., būsimieji Britų Kolumbijos žygeivių renginiai, registracija į stovyklą "Lankas" ir kitos naujienos!

O taip pat Pasaulio lietuvių bendruomenės pranešimas apie 2024m. pilietybės referendumą.
Dear community members and friends, we are pleased to share with you information about our upcoming events.

Included in this issue:
Andrius Mamontovas concert in Vancouver September 16 (very limited tickets remain!), Joninės celebration with the Estonian community June 24-25, upcoming events of the Britų Kolumbijos Žygeiviai / British Columbia Explorers, registration deadline for Camp Lankas and more!

As well, a special message from the Lithuanian World Community (Pasaulio lietuvių bendruomenė) about the 2024 referendum on citizenship.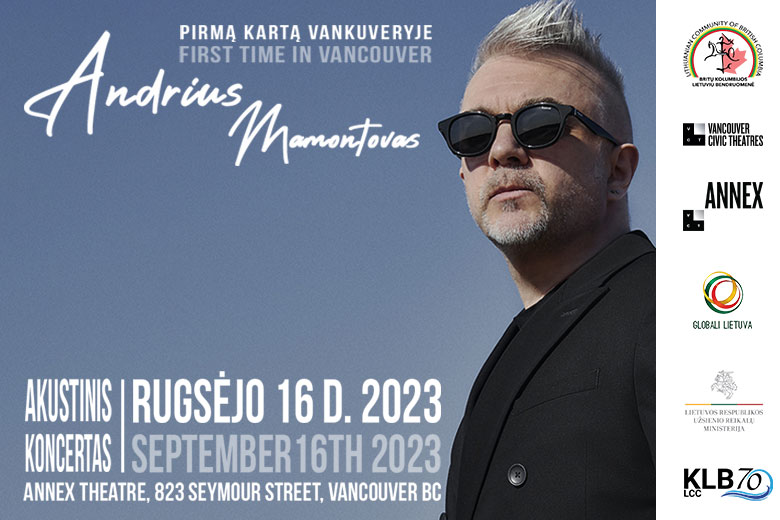 PIRMĄ KARTĄ VANKUVERYJE!
ANDRIAUS MAMONTOVO AKUSTINIS KONCERTAS – (Bilietai beveik išparduoti!)
ŠEŠTADIENIS, RUGSĖJO 16, 2023 | 18:00 val.
DURYS ATIDAROMOS 17:00 val.
ANNEX TEATRAS
823 SEYMOUR GATVĖ
VANKUVERIS, BK, KANADA
Kviečiame Jus įsigyti bilietą(-us) į Andriaus Mamontovo akustinį koncertą, kuris įvyks šeštadienį, rugsėjo 16, 2023, Vankuverio mieste.
Laukiame Jūsų šiame metų renginyje susitikti su Lietuvos muzikos legenda ir ikona!
Bilietai: Vienam asmeniui bus suteikta galimybė įsigyti 4 bilietus – maloniai prašome pirkėjų vengti atlikti daug pirkimų siekiant suteikti galimybę kuo daugiau žmonių apsilankyti šiame ypatingame koncerte.
Šis renginys taip pat pažymės Kanados Lietuvių Bendruomenės 70-ąsias susikūrimo metines ir Britų Kolumbijoje gyvą lietuvių-kanadiečių tautinį paveldą. Po koncerto bus galimybė pabendrauti ir daugiau susipažinti su susirinkusia lietuvių bendruomene.
Šį koncertą organizuoja ir remia Britų Kolumbijos Lietuvių Bendruomenė, Vankuverio teatrų grupė (Vancouver Civic Theatres) ir Lietuvos Užsienio Reikalų Ministerija.
Bilietų įsigijimui naudokite žemiau nurodytą nuorodą:
NUORODA bilietų įsigijimui:https://www.vtixonline.com/andrius-mamontovas-acoustic-concert/3552/
Svarbūs pranešimai atvykstantiems į koncertą bus išsiųsti elektroniniu paštu rugsėjo mėnesio pradžioje.
Jei turite klausimų dėl koncerto, rašykite: lithuaniansofbc@gmail.com.
FIRST TIME IN VANCOUVER!
ANDRIUS MAMONTOVAS ACOUSTIC CONCERT – Very limited tickets remaining!
SATURDAY, SEPTEMBER 16, 2023 | 6:00PM
DOORS OPEN AT 5:00PM
ANNEX THEATRE
823 SEYMOUR STREET
VANCOUVER, BC, CANADA
The Lithuanian Community of British Columbia warmly invites you to purchase your ticket(s) to the Andrius Mamontovas Acoustic Concert which will be held in Vancouver on Saturday, September 16, 2023.
Join us for the event of the year with a Lithuanian musical legend and icon!
Tickets: Limit of 4 tickets per transaction – we kindly ask purchasers to please avoid multiple purchases to ensure as many people as possible can attend this special event.
This concert also commemorates the 70th anniversary of the Canadian Lithuanian Community, and our vibrant heritage as Lithuanian-Canadians in British Columbia. A short reception will follow the concert, and we invite all ticket holders to stay for a brief period of community and fellowship.
This concert is being organized with the generous support of the Lithuanian Community of British Columbia, Vancouver Civic Theatres, and programs of the Ministry of Foreign Affairs of the Republic of Lithuania.
LINK to purchase tickets:https://www.vtixonline.com/andrius-mamontovas-acoustic-concert/3552/
Important reminders about the event will be sent to ticket holders via email in early September.
If you have any questions about the concert please contact lithuaniansofbc@gmail.com.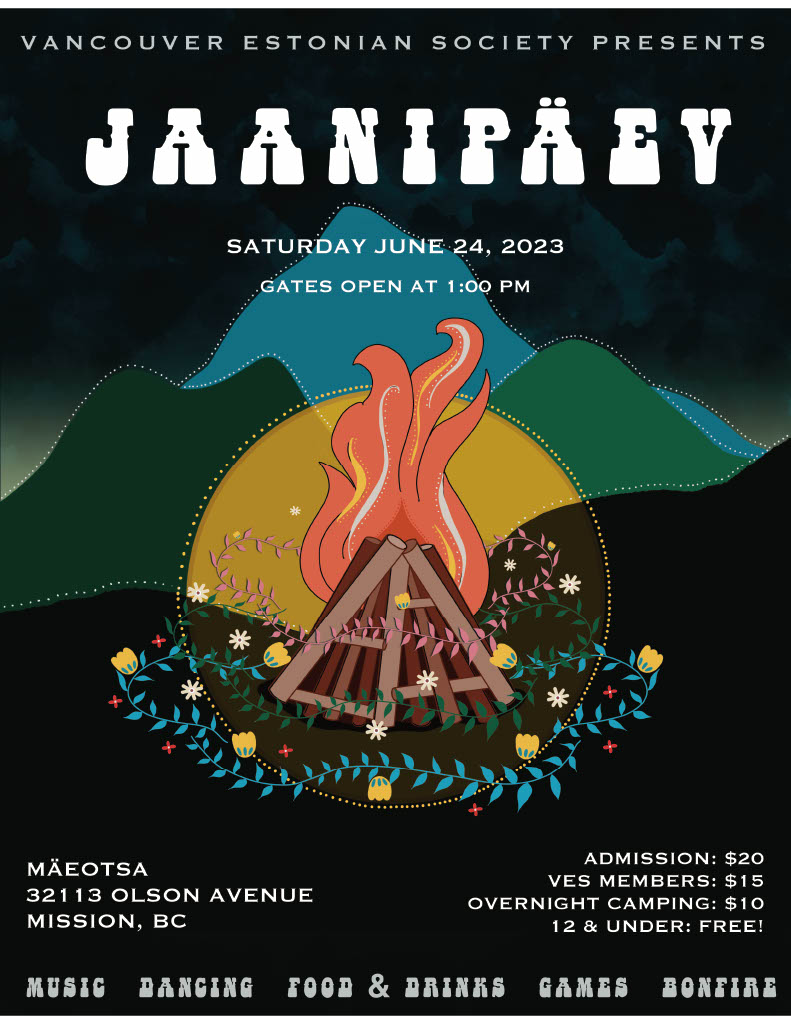 Joninės / Jaanipäev su Estais Birželio 24 d.

Nuoširdžiai kviečiame visus lietuvius,
bendruomenės narius ir draugus
švęsti Jonines kartu su estų bendruomene jų
sodyboje "Mäeotsa" Mission, Britų Kolumbijoje – bus muzika, skanaus maisto, žaidimai, laužas ir kitos įdomybės!

Šventėje galite dalyvauti pasirinktinai – 24 d., arba abi dienas (24-25 d.) su nakvyne palapinėje (ja turite pasirūpinti).

Adresas: Mäeotsa, 32113 Olson Avenue, Mission, B.C.

Kaina: $20 žmogui, vaikai iki 12 metų -nemokamai. $10 už vietą palapinei arba kemperiui.

Visa programa ir papildoma informacija 👇
http://www.vesbc.com/index.php/ves/253-jaanipaeev-2023

Kviečiame savanorius!
Reikalinga savanorių pagalba įvairiose srityse, kad renginys būtų sėkmingas.

Birželio 17 d. Talka, arba Talgud (estiškai) Mäeotsa vietoje. Reikia pagalbos ruošiant vietovę Joninių šventei.

Birželio 24 d. Ieškome savanorių darbui virtuvėje, prie baro, vietovės tvarkymo ir kitiems darbams; taip pat savanorių padėsiančių su vaikų žaidimais ir kitais užsiėmimais renginio dieną.

Prašom rašykite adresu lithuaniansofbc@gmail.com jei galite pagelbėti!
Joninės (Jaanipäev) with the Estonian Community June 24

We warmly invite all Lithuanians, community members and friends to celebrate Midsummer together with the Estonian community at Mäeotsa in Mission – a day of music, food, games, a traditional bonfire and more!

Participants are welcome to join all the day's activites on June 24th only, or to camp overnight with your tent or RV.

Adress: Mäeotsa, 32113 Olson Avenue, Mission, B.C.

Cost: $20 per person, children under 12 are free. $10 per tent or RV for overnight camping.

Full program and event details here 👇
http://www.vesbc.com/index.php/ves/253-jaanipaeev-2023

Calling volunteers!
Volunteers are needed to fulfill a variety of roles to help make this event a success.

June 17: Talgud (Estonian: work party, Lithuanian: Talka) at Mäeotsa to help prepare the property for Midsummer festivities.

June 24: Seeking volunteers to fill kitchen, bar, clean-up and other shifts, and to help with children's and other activities the day of the event.

Please email lithuaniansofbc@gmail.com if you can assist!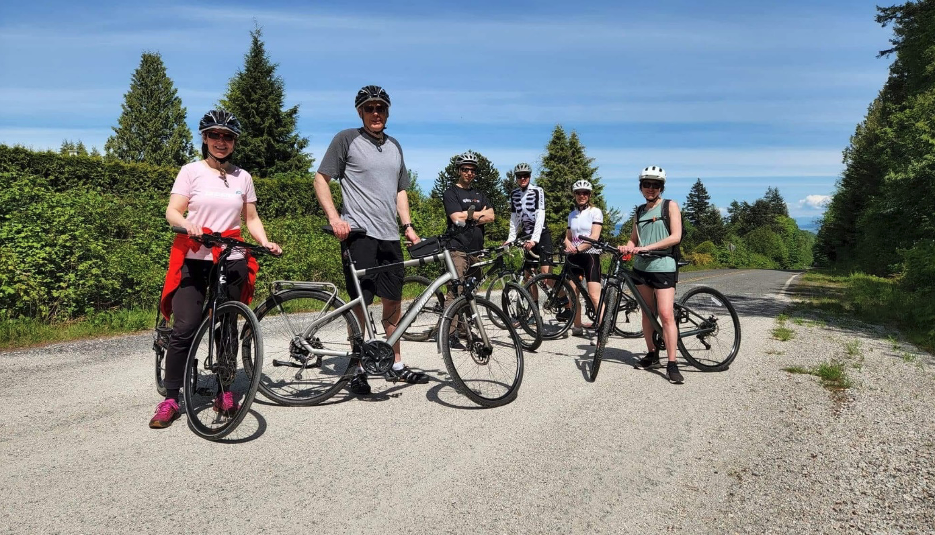 Važiavimas Dviračiu & Kugelis, Point Roberts, Vašingtono valstijoje, Liepos 1 d.
Britų Kolumbijos Žygeiviai kviečia į 30k žygį dviračiu Point Roberts, Vašingtono valstijoje. Po žygio kviečiame valgyti kugelio! Kugelio gausite jeigu važiuosite dviračiu.

Daugiau informacijos – greitu laiku.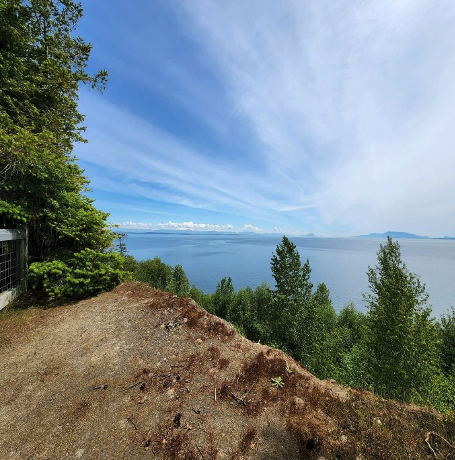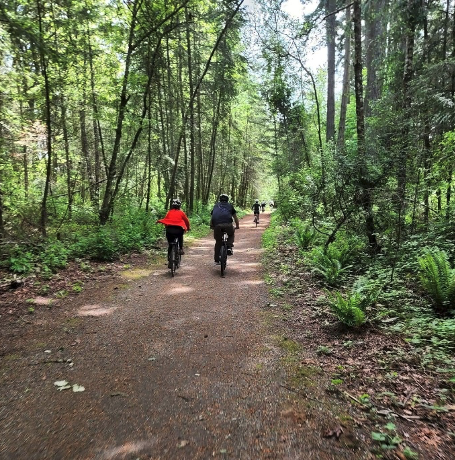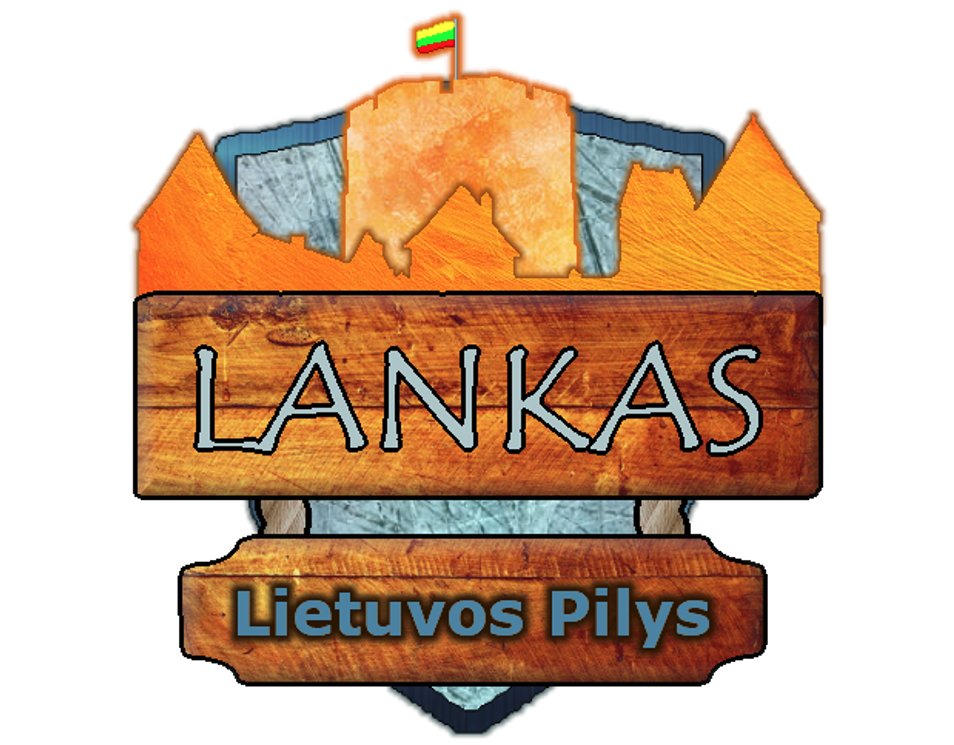 Registracija į Lanko stovyklą baigiasi birželio 30d.

Lanko Stovykla 2023 vyks rugpjūčio 13–19 dienomis Vakarų pakrantės latvių Edukaciniame centre Shelton'e WA. Šiais metais stovyklos tema – Lietuvos pilys!

Pamokų ir užsiėmimų metu stovyklautojai turės progos pažinti ir tyrinėti unikalią lietuvių kalbą, meną ir tradicijas.
Nekantriai laukite geriausios šių metų savaitės stovykloje Lankas 2023!

Nepamirškite, kad ne pilnu grafiku dirbantys savanoriai privalo skirti mažiausiai 20 valandų užsiėmimų pravedimui ir darbui stovykloje. Pilnu grafiku dirbantys savanoriai – tai stovyklos virėjai arba auklėtojai.

Po šios informacijos, rasite nuorodą kaip apmokėti internetu; taip pat galite pasirinkti ne internetinį apmokėjimo būdą.

Nuoroda registracijai:
https://lankostovykla.com

Jei turite klausimų ar nuogąstavimų, rašykite
LankasStovykla@gmail.com
Registration deadline for Camp Lankas is June 30

Lanko Stovykla 2023 will take place August 13th–19th at the West Coast Latvian Education Center in Shelton, WA. The camp theme this year is "Lietuvos Pilys" or "Castles of Lithuania"!

Campers will have the chance to experience and explore Lithuania's unique language, art, and traditions through classes and activities.
Get excited for the best week of the year at Lankas 2023!

Remember that part-time volunteers must spend at least 20 hours leading activities and helping to run the camp. Full-time volunteers are typically either counselors or lead chefs.

Online payment is available at the end of this form, but you may also select "offline" payment when you get to the billing section, allowing you to mail in a registration check.

Link to registration/payment:
https://lankostovykla.com/

Please feel free to email us with any questions or concerns at LankasStovykla@gmail.com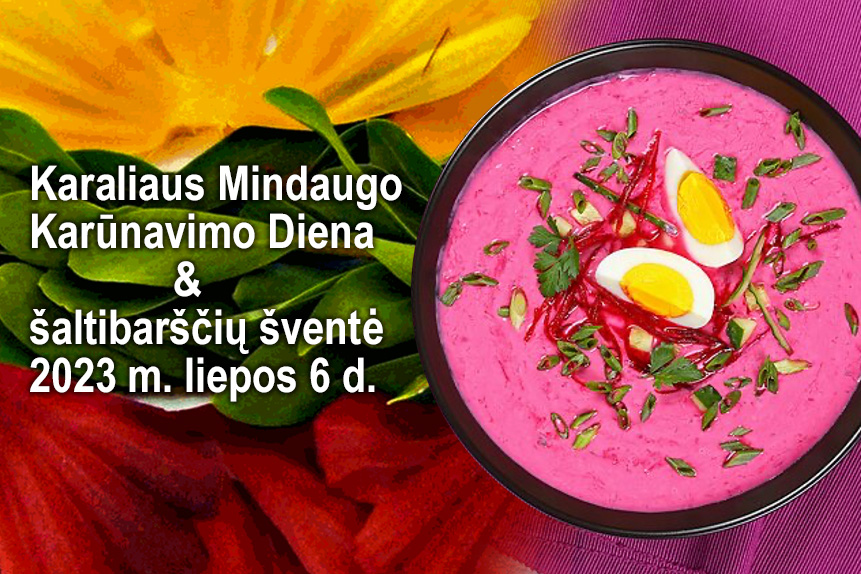 Karaliaus Mindaugo Karūnavimo Diena & šaltibarščių šventė – 2023 m. liepos 6 d
 
Susitiksime giedoti Tautišką Giesmę ir gaminti vakarienę – visi kartu!
 
Daugiau informacijos greitu laiku.
Save the date! Statehood Day (Coronation Day) will once again be celebrated with traditional anthem singing, followed by a communal dinner of cold, beetroot soup on the beach! – July 6, 2023
 
More information about the event coming soon.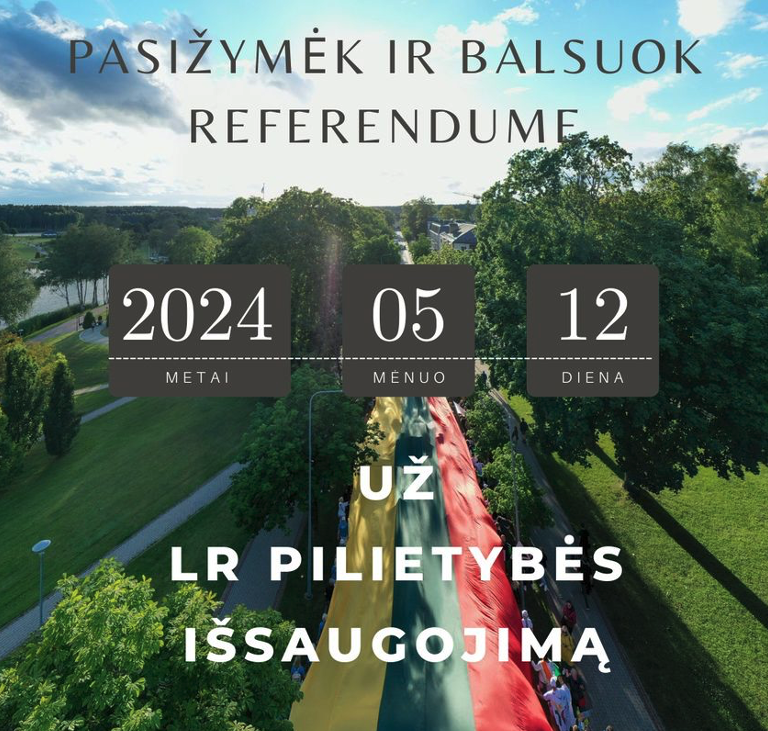 PASIŽYMĖK IR BALSUOK UŽ LR PILIETYBĖS IŠSAUGOJIMĄ

PATVIRTINTA. 2024 m. gegužės 12 d. Lietuvoje vyks referendumas dėl gimimu įgytos Lietuvos Respublikos pilietybės išsaugojimo.

Sekite šio pobūdžio informaciją ateinančiais mėnesiais. Skelbsime svarbias žinias apie 2024m. privalomą referendumą dėl daugybinės pilietybės ir naujienas kodėl kaip niekad svarbu viso pasaulio diasporos bendruomenėms dalyvauti referendume.
SAVE THE DATE AND VOTE IN THE REFERENDUM ON MULTIPLE CITIZENSHIP

Lithuania to hold multiple citizenship referendum on May 12, 2024

Please watch this space in the coming months as we bring you important information about the 2024 mandatory referendum on multiple citizenship, and why it is more important than ever for diaspora communities around the world to participate.
Svarbios datos ir artėjantys renginiai
Gedulo ir Vilties Diena – 2023 m. birželio 14 d.




 

Joninės (Jaanipäev) su estų bendruomene – 2023 m. birželio 24–25 dienomis




 

Karaliaus Mindaugo Karūnavimo Diena – 2023 m. liepos 6 d.




 

Baltijos kelias / Juodo kaspino diena – 2023 m. rugpjūčio 23 d. (tikslias renginių datas Britų Kolumbijoje paskelbsime vėliau).




 

Andriaus Mamontovo koncertas ir Kanados Lietuvių bendruomenės 70-osios metinės – 2023 m. rugsėjo 16 d.




 

Nacionalinė žydų genocido aukų atminimo diena (minėjimas bendruomenėje)  – 2023 m. spalio 22 d.




 

Kalėdų Balius – datą skelbsime vėliau.




 

Skelbsime daugiau informacijos apie šiuos ir kitus renginius.
Upcoming events & dates
Day of Mourning & Hope – June 14, 2023




 

Joninės (Jaanipäev) with the Estonian Community – June 24–25, 2023




 

Statehood Day (Coronation Day) – July 6, 2023




 

Baltic Way Anniversary / Black Ribbon Day – August 23, 2023 (dates for events in B.C. to be announced)




 

Andrius Mamontovas Concert & 70th anniversary of the Canadian Lithuanian Community – September 16, 2023




 

National Memorial Day for the Genocide of the Lithuanian Jews (community commemoration) – October 22, 2023




 

Christmas Banquet – Date TBD




 

More information about these and other events will follow.
Savanoriai laukiami!

Savanoriai visada laukiami ir su jų pagalbą mūsų renginiai ir iniciatyvos bus malonūs ir sėkmingi. Jei jus domina dalyvauti, praneškite mums: lithuaniansofbc@gmail.com.
Volunteers Welcome!

Volunteers are always welcome and help to make our events and initiatives enjoyable and successful. If you are interested in getting involved, please let us know: lithuaniansofbc@gmail.com.