Sveiki Britų Kolumbijos lietuviai, bendruomenės nariai ir draugai.
Džiaugiamės, dalintis su Jumis informacija apie buvusius ir būsimus renginius.
Dear community members and friends, we are pleased to share with you information about our recent and upcoming events.
Bilietai į mūsų gegužės 28 d. "Baltijos Šalių ir Draugų" lėšų rinkimo vakarienė parduodami greitai, jau 70% parduota! Jei planuojate dalyvauti, prašome įsigykite bilietus žemiau esančioje nuorodoje:

https://www.lithuaniansofbc.com/helpukraine/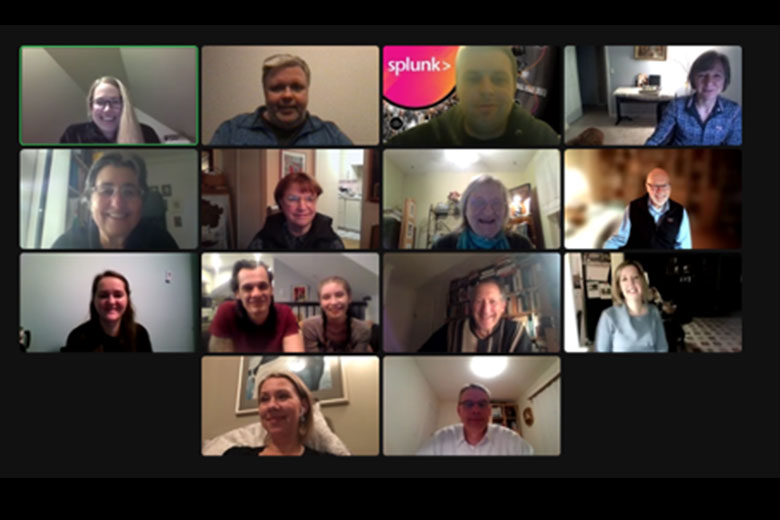 Bendruomenės apklausos ir Atvirų Durų renginio rezultatai


2022, vasario mėn., BKLB Atvirų Durų renginio komitetas (Andrea Berneckas, Rachel Mines, Lina Holliday, Kristina Jaugelis, su Vido Vitkaus pagalba) paruošė ir pristatė anketą bendruomenės nariams.
Anketos tikslas buvo surinkti informaciją apie bendruomenės narių pageidavimus ateities veiklai ir renginiams.


Apklausoje dalyvavo keturiolika narių – keturi iš jų – direktoriai. Apibendrinti apklausos rezultatai: dauguma narių išreiškė norą bendrauti gamtoje, eiti į žygius ir dalyvauti sportiniuose renginiuose. Pageidaujama daugiau piknikų ir susitikimų kavinėse/restoranuose. Bendruomenės narius dar domina kultūriniai renginiai – knygų klubai, Lietuvių kalbos lavinimas, įvykių aptarimai ir bendradarbiavimas su kitomis bendruomenės grupėmis.


Apie 50% atsiliepusiųjų domino verslas ir naujų pažinčių užmezgimai, apie 50% domino vaikų/šeimų renginiai.


Dauguma labiau vertino gyvą, ne virtualų, bendravimą. Buvo pripažinta, kad virtualios platformos yra nepamainomos organizuojant Lietuvos Ambasados Kanadai, Kanados Lietuvių Bendruomenės ir Kanados Lietuvių Jaunimo Asociacijos.


Po Atvirų Durų renginio BKLB įkūrė du komitetus, kurie atsižvelgė į bendruomenės narių idėjas ir prašymus per atvirų durų dieną ir apklausą bei norėtų įsitraukti į bendruomenės renginių planavimą ir palaikymą.
Renginių planavimo komitetas (padėti suplanuoti renginius likusiai metų daliai)
Parama Ukrainai komitetas (įvertinti kaip mūsų bendruomenė gali pasiūlyti reikšmingą paramą Ukrainai ir dalyvauti šiose iniciatyvose)
Jeigu Jus domina savanoriška veikla bet kuriame iš šių komitetų, rašykite el. Paštu lithuaniansofbc@gmail.com. Jei negalite prisijungti prie kurio nors komiteto, bet norėtumėte būti savanorių sąraše, kad paremti renginius, taip pat praneškite mums.
Results of Community Survey and Open House
In February 2022, LCBC's Open House Committee (Andrea Berneckas, Rachel Mines, Lina Holliday Kristina Jaugelis assisted by Vidas Vitkus) drafted and distributed a community survey to gather information about members' wishes for the community and to plan events for the next year. Fourteen members, including four directors, completed the survey. The following is a brief summary of responses:
Most members expressed an interest in outdoor events, including hiking and sports. Social events, including picnics, coffee/restaurant outings, and pub nights, were also popular. The third category of interest was cultural events, including book clubs, Lithuanian language practice, current events, and liaising with other community groups. About 50% of respondents were interested in business/networking, and about 50% in children/family activities. Most people preferred in-person to virtual events, though there was interest in in participating in virtual events organized by the Embassy of Lithuania to Canada, the Lithuanian Canadian Community, and the Canadian Lithuanian Youth Association.
The Open House was convened via Zoom on March 10, 2022. Members presented on existing programming, discussed adding new programming based on the survey results, and brainstormed ways our community could support Ukraine in the present war.
Since the Open House, two new committees have been formed: the Events Planning Committee and the LCBC Supports Ukraine Committee. Both committees are actively engaged in planning events and programs based on community members' inputs.
If you are interested in joining either of these committees in any way, please send an email to lithuaniansofbc@gmail.com. If you are not able to join either committee, but would like to be on our volunteer on-call list for event support, please let us know as well.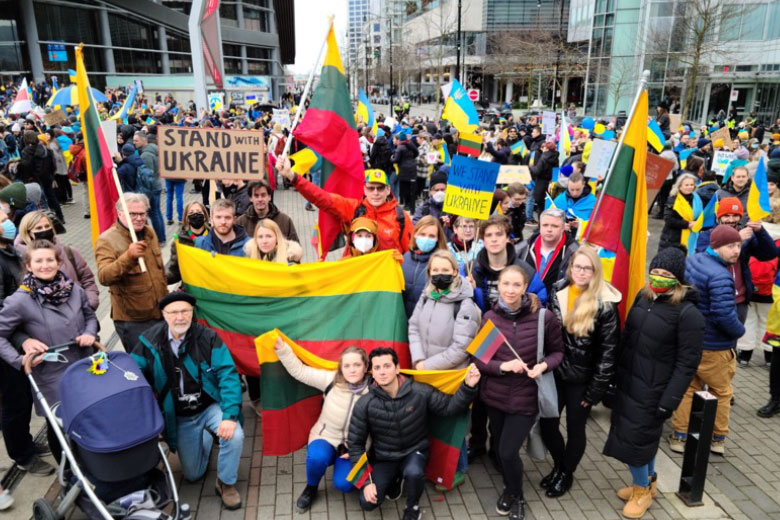 BKLB palaiko Ukrainą
Rusijos kariuomenei užpuolus Ukrainą vasario 24 dieną, BKLB išreiškė pasipiktinimą karo veiksmais ir vienybę su Ukrainiečiais. Savaitgaliais, lietuviai protestavo prieš Rusijos karinius veiksmus kartu su Ukrainiečiais ir kitomis bendruomenėmis nuo vasario 26 d. Kovo 13d, Kovo 27d ir Gegužės 15d Jack Poole Aikštėje ir prie Vankuverio Meno Galerijos, BKLB lyderiai ir nariai pasisakė už Ukrainiečių palaikymą ir solidarumą.
Per Arvirų Durų renginį, vykusį kovo 10d., bendruomenės nariai išreiškė poreikį palaikyti Ukrainiečius konkrečiais veiksmais. Netrukus BKLB išsiuntė laiškus į Otavą ir Viktoriją išreikšdama pasipriešinimą karui ir skatindama Kanados vyriausybę skirti karinę ir humanitarinę paramą Ukrainai.
Laiškas buvo išsiųstas 44 Kanados Parlamento nariams, įskaitant Prime Ministrą Justin Trudeau,
ir Britų Kolumbijos Premjerui John Horgan.
Mes nuoširdžiai laukiame Jūsų entuziastingo dalyvavimo "Baltijos Šalių ir Draugų" lėšų rinkimo vakarienė Ukrainai, kuris vyks Gegužės 28 dieną. Tai bus nuostabus renginys susirinkti kartu ir išreikšti palaikymą Uktainai. Surinktos lėšos bus paaukotos Maple Hope Foundation. Vakaras bus kupinas Ukrainietiško maisto, pramogų bei alkoholinių gėrimų baro.
Slava Ukraini!
LCBC Stands With Ukraine
Since the beginning of Russia's invasion of Ukraine on February 24, The Lithuanian Community of British Columbia has been called to action to express our outrage for the war and our solidarity with Ukraine. Visible at every protest, since February 26, Lithuanians have shown up week after week to stand with our Ukrainian friends, along with many other communities and allies. LCBC was invited by the Stand With Ukraine protest organizers to address the March 13, March 27 and May 15 rallies at Jack Poole Plaza and the Vancouver Art Gallery, where President Algis Jaugelis and community member Gene Homel shared words of support and solidarity on behalf of our community.
The Open House on March 10 further highlighted our community's desire to take concrete actions to demonstrate our support for Ukraine. Following the Open House LCBC sent a letter to
elected representatives in Ottawa and Victoria denouncing the war, and calling upon Canada to extend greater military and humanitarian support to Ukraine. The letter was sent to 44 Members of Parliament including Prime Minister Justin Trudeau, and to the Premier of British Columbia John Horgan.
We sincerely hope you will join us the March 28 Baltic Nations & Friends Fundraiser for Ukraine, which is the result of our close friendship and collaboration with the local Latvian and Estonian communities. It will be a wonderful evening to gather together and show our support, with all proceeds donated to the Maple Hope Foundation. The evening will feature Ukrainian food, entertainment, a cash bar and more.
Slava Ukraini!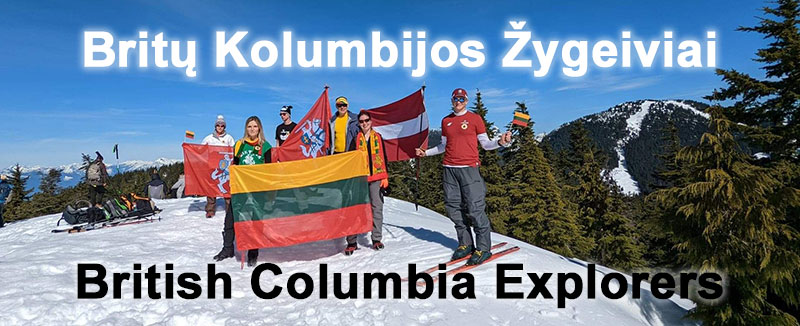 Britų Kolumbijos Žygeiviai / British Columbia Explorer
Važiavimas Dviračiu & Kugelis paremti Ukrainai
Britų Kolumbijos Žygeiviai kviečia į 30k žygį dviračiu Point Roberts, Vašingtono valstijoje.
Data: 2022 m. gegužės 22 d., sekmadienis
Susirinkimo laikas: 12 val.
Susitikimo vieta: Point Roberts, WA, JAV.
Atstumas: 30k.
Vertikalus pakilimas: 150m.
Reikalinga įranga: hibridinis, plento ar kalnų dviratis.
Kaina: auka "Blue Yellow" ar kitai organizacijai, padedančiai Ukrainai.
Važiuosime dviračiu po Point Roberts Vašingtono valstijoje, JAV. Po pasivažinėjimo lauks kugelis ir laužas. Renginys bus lauke. Prašome turėti pakankamai drabužių.
Jei ketinate dalyvauti, prašome skambinti Linui Antanavičiui (778-322-5100).
NORĖDAMI ĮVYKTI Į JAV PRIVALAITE TURĖTI GALIOJANTĮ PASĄ IR SKIEPIMO ĮRODYMĄ. PRIVALOTE NAUDOTI PROGRAMĄ ARIVECAN, KAD GRĮŽTUMĖTE Į KANADĄ.
KUGELIO GAUSIT JEIGU VAŽIUOSIT DVIRAČIU.
Laimingo važiavimo dviračiu!
Britų Kolumbijos Žygeiviai / British Columbia Explorers:
Bike & Kugelis Fundraiser for Ukraine
Please join the British Columbia Explorers in a 30k  bike ride followed by kugelis in Point Roberts, WA.
Date: Sunday, May 22, 2022, subject to no rain.
Start time: 12 p.m.
Meeting Location: Point Roberts, WA, USA.
Distance: About 30k on a paved road.
Elevation: about 150m.
Required equipment: a hybrid, road or mountain bike.
Cost: a donation to Blue Yellow or other organization aiding Ukraine.
We will cycle around Point Roberts in Washington State, USA. Kugelis and a bonfire will
follow after the ride. The event will be outside. Please bring sufficient clothing.
Please confirm with Linas Antanavicius (778-322-5100) if you plan to attend.
YOU MUST HAVE A VALID PASSPORT AND PROOF OF VACCINATION TO ENTER THE USA. YOU MUST USE THE ARIVECAN APP TO RETURN TO CANADA.
YOU WILL GET KUGELIS IF YOU CYCLE.
Happy cycling!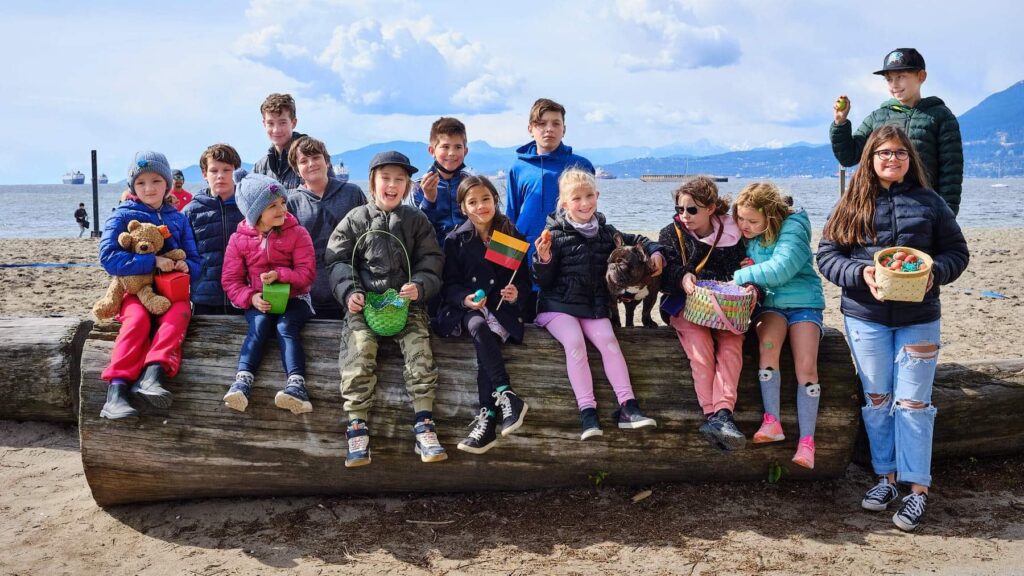 Klubas "Sedula" Klubas "Sedula" pradėjo savo naują veiklą, skirtą vaikams ir tėveliams suburti ir puoselėti kultūrinio pobūdžio renginius. Labai džiaugiames gražia šio laisvalaikio klubo atidarymo Margučių švente, kuri įvyko Kitsilano paplūdymyje balandžio 16d.
Sekantis renginys vyks birželio 4d. Mes aplankysime Vankuverio tarptautinį vaikų festivalį Granville saloje. Kviečiame visus prisijungti renginių parke "Activity Village" 14val. Bilietus į "Activity Village" galima įsigyti vietoje ($6 asmeniui, įskaitant mokesčius).
On Site Activities – Vancouver International Children's Festival Society (childrensfestival.ca)
Festivalyje vyksta daug vaikiškų spektaklių. Bilietus į pasirinktą spektaklį galite nusipirkti tinklapyje (nuoroda žemiau). Spektaklio bilietas taip pat galios ir renginių parke "Activity Village".
https://www.childrensfestival.ca/calendar/featured-performers/
Jei turite klausimų, prašome kreiptis el. Paštu klubas.sedula@gmail.com.
Club "Sedula"—a new initiative to bring Lithuanian families and children of all ages together for social, cultural, or educational outings or events—celebrated its opening with an Easter Egg decorating party at Kistilano Beach Park on April 16.
The next outing will take place on June 4 when we will visit the Vancouver International Children's Festival on Granville Island. Please meet at 2PM outside the Activity Village (more information at the link below). Wristbands for the Activity Village can be purchased on-site ($6 per person, includes GST and Service Charges).
On Site Activities – Vancouver International Children's Festival Society (childrensfestival.ca)
There are many children's performances taking place that are part of the festival. If you wish to purchase tickets to any of the performances during your visit, you can do so at the link below. If you purchase a show ticket, it includes a wristband to the Activity Village!
https://www.childrensfestival.ca/calendar/featured-performers/
If you have any questions please send an email to klubas.sedula@gmail.com.
Artejantys renginiai
30k Žygį Dviračiu & Kugelis – gegužės 22d.
"Baltijos Šalių ir Draugų" Lėšų rinkimo vakarienė – gegužės 28 d
Klubo "Sedula" išvyka į Vankuverio tarptautinį vaikų festivalį – birželio 4d.
Gedulo ir vilties diena – birželio 14d
Joninės / Jaanipäev su Estais – birželio 25d.
Valstybės diena – liepos 6d
Juodojo kaspino dienos ir Baltijos kelio metines – rugpjūčio 23d
Lietuvos žydų genocido aukų atminties diena – rugsejo 23d
Daugiau informacijos apie šiuos ir artėjančius
renginius pranešime artimiausiu laiku.
Upcoming Events
Bike & Kugelis for Ukraine – May 22
Baltic Nations & Friends Fundraiser for Ukraine – May 28
Klubas "Sedula" outing to Vancouver International Children's Festival – June 4
Day of Mourning and Hope – June 14
Joninės / Jaanipäev with the Estonian community – June 25
Statehood Day – July 6
Baltic Way and Black Ribbon Day commemoration August 23
National Memorial Day for the Genocide of the Lithuanian Jews – Community Commemoration (September 23)
More information about these and upcoming events will follow.
Savanoriai laukiami!
Savanoriai visada laukiami ir su jų pagalbą mūsų renginiai ir iniciatyvos bus malonūs ir sėkmingi. Jei jus domina dalyvauti, praneškite mums: info@lithuaniansofbc.com.
Volunteers welcome!
Volunteers are always welcome and help to make our events and initiatives enjoyable and successful. If you are interested in getting involved, please let us know: info@lithuaniansofbc.com.