Sveiki Britų Kolumbijos lietuviai, bendruomenės nariai ir draugai.
Džiaugiamės galėdami pasidalinti su jumis informacija apie šių metų praėjusius renginius.
Taip pat šiame numeryje: Padėka visiems mūsų remėjams ir savanoriams už jų pastangas organizuojant šių metų renginius.
O taip pat supažindinsime su mūsų 2022 – 2023 metų valdyba.
Dear community members and friends, we are pleased to share with you information about our past events and a summary of our activity in 2022!
Included in this issue: Recognition of all our Sponsors and Volunteers—your efforts were key to our success this year!
We will also introduce our board of Directors for 2022-2023. Read to the bottom to meet the team!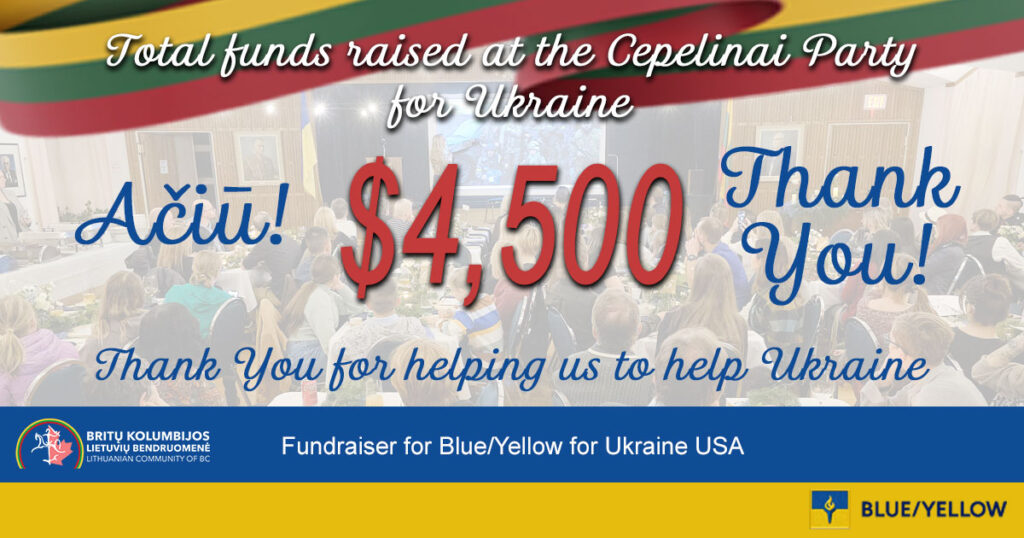 Norime padėkoti visiems dalyviams, remėjams, organizatoriams, sponsoriams ir savanoriams už jų indėlį į Cepelinų baliaus vakarą. Jūsų visų dėka organizacijai Blue/Yellow USA Ukrainai mes surinkome $4500.
Taip pat nuoširdžiai dėkojame Rimai Žiuraitis, Blue/Yellow for USA direktorei kad prisijungė prie mūsų kaip įpatingas renginio svečias.
We wish to thank all our attendees, supporters, organizers, sponsors and volunteers for their contributions to our Cepelinai Party fundraising dinner. Because of all of you we were able to raise $4500 for Blue/Yellow for Ukraine USA.
We also wish to express our sincere thanks to Rima Ziuraitis, Managing Director of Blue/Yellow for Ukraine USA for joining us all the way from Chicago to be our Special Guest Speaker at the event.
2022 metų apžvalga
Šie metai buvo iš ties veiksmingi! Pristatome Jums trumpą prasmingos veiklos ir ypatingų renginių, vykusių po pernai metų Generalinio Metinio Susirinkimo ataskaitą. Per šių metų Generalinį Metinį Susirinkimą išgirsite daugiau informacijos ir pamatysite nuotraukų.
Norime pasidžiaugti pilnai veikiančiu BKLB tinklapiu www.lithuaniansofbc.com. Ten galite rasti informacijos apie mūsų bendruomenę, jos istoriją, renginius, ir informaciją apie naujai atsikrausčiusius i Britų Kolumbiją lietuvius ar tik čia apsilnkančius.
2022 Year in Review
It's been a busy year! Here is a quick recap of some of our ongoing initiatives plus the special events we carried out since the last AGM.
The LCBC website is now up and running at www.lithuaniansofbc.com. There is a wealth of information about our community, our history, events, information for Lithuanians visiting or settling in BC, and much more.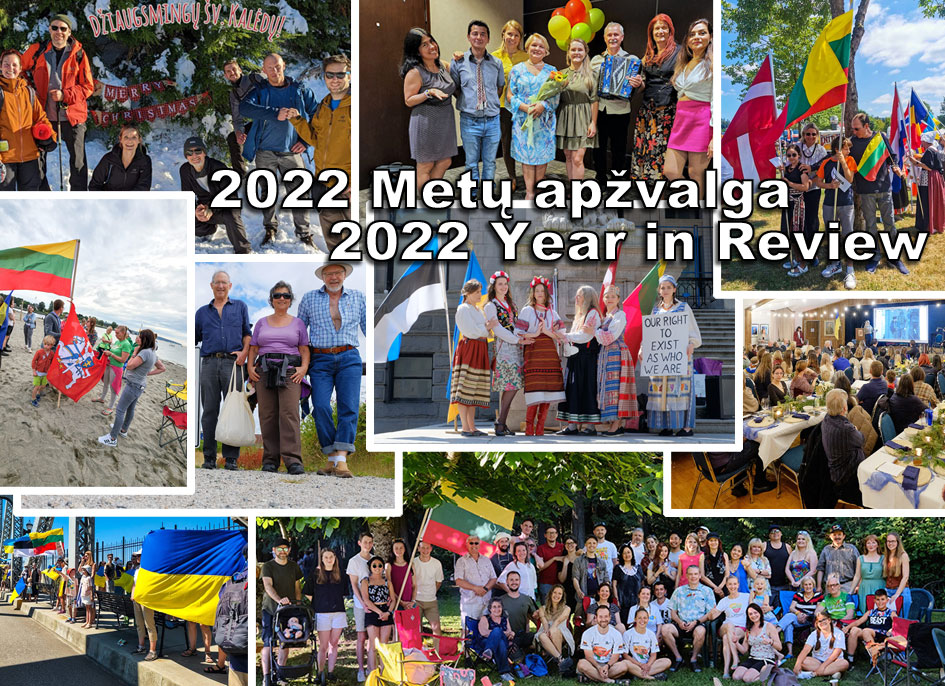 Britų Kolumbijos Žygeiviai: klubas, skirtas žygiams gamtoje, iškyloms su dvirčiais, kajakais, slidėmis ir panašiai. Veikla dažniausiai vyksta kiekvieną menesį. Daugiau informacijos ir nuotraukų galite rasti čia: Facebook.
Britų Kolumbijos Žygeiviai / British Columbia Explorers: This is a club for those interested in outdoor activities such as hiking, cycling, kayaking, skiing, and more. There is approximately one activity scheduled per month. Information and photos can be found on the group's Facebook page.
Klubas "Sedula": Tai klubas vaikams, šeimoms ir ne tik. Daugiau informacijos ir nuotraukų galite rasti čia: Facebook.
Klubas "Sedula": This is a social and activities club for children and families, but it's open to all. A number of events were held in 2022. More information and photos can be found on the group's Facebook page.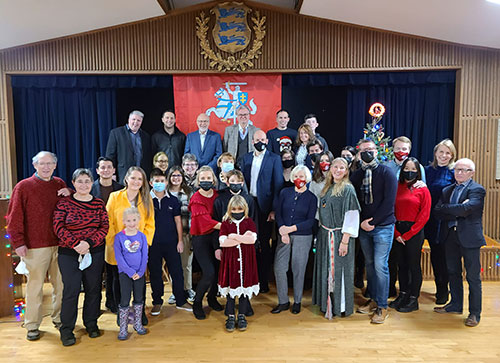 Bendruomenės "Kūčios" su Ambasadoriumi Dariumi Skusevičiumi vyko Gruodžio 12d. 2021. Tai buvo pirmasis renginys, kurį šventėme po Generalinio Metinio Susirinkimo.
Community Christmas "Kūčios" celebration with Ambassador Darius Skusevičius, December 2021. The first event held after last year's AGM was our community Christmas "Kūčios" celebration on December 12 at the Estonian Church Foundation Hall with special guest Ambassador of Lithuania to Canada, Darius Skusevičius.
Vasario 24d, Rusijai užpuolus Ukrainą, išreikšdami palaikymą, BKLB nariai dalyvavo visuose Kanados Ukrainiečių Kongreso ir kitų institucijų surengtuose protestuose. Mes bendradarbiavome su Baltijos ir Rytinės Europos bendruomenėmis rengdami renginius Ukrainos palaikymui.
Russia's unprovoked, unjust invasion of Ukraine which began February 24 galvanized all of us in a way unseen since the dark days of the Soviet Occupation. LCBC was present at each protest and rally organized by the Ukrainian Canadian Congress and other parties this year, and we collaborated with our fellow Baltic and Central and Eastern European community partners on several other events in support of Ukraine.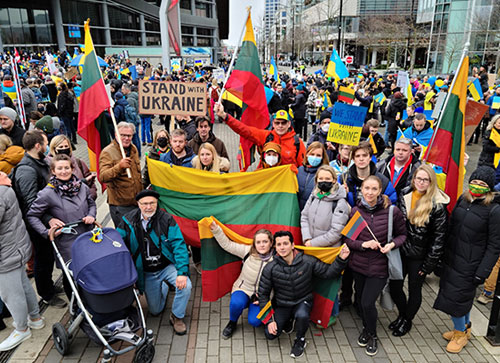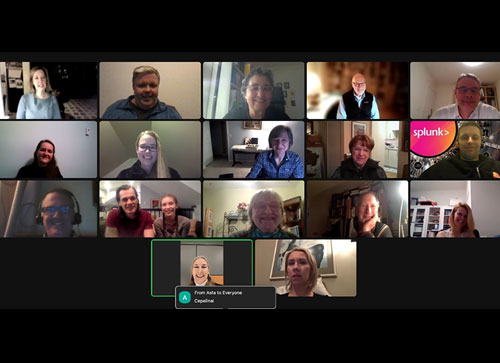 Šį pavasarį, Bendruomenės Valdyba darė apklausą ir Atvirų Durų susitikimą, norėdama sužinoti Jūsų pageidavimus 2022 metų veiklai. Atsiliepusieji norėjo veiklos gamtoje, renginių šeimai ir vaikams, kulturinių renginių, ir paramos isreiškimo Ukrainai. 2022 renginių pakraipa atspindėjo Jūsų pageidavimus.
Member survey and Virtual Open House. This spring, the Board of Directors engaged with community members to find out what activities YOU wanted for 2022. Most participants were interested in outdoor events; family and children's events; cultural events, including socials and book clubs; and support for Ukraine. Our calendar of events for 2022 incorporated all these ideas and more.
Gegužės 28d. rengėme sėkmingą Baltijos Tautų ir Draugų Lėšų Ukrainai Pritraukimo renginį, kuriame pasisakė Ukrainos ir Baltijos šalių tautų atstovai. Renginį organizavome kartu su Vankuverio Estų ir Latvių bendruomenėmis ir kartu surinkome $4800 lėšų, kurias skyrėme Maple Hope Foundation, ne pelno siekiančiai organizacijai, pagalbą suteikiančiai ukrainiečiams tiek Ukrainoje, tiek ją palikusiems dėl karo.
We followed with a successful Baltic Nations & Friends fundraising dinner for Ukraine held on May 28—a beautiful dinner featuring Ukrainian food and speakers representing Ukraine and the other Baltic nations. This dinner was organized together with the Estonian and Latvian communities in Vancouver and raised $4800 for the Maple Hope Foundation, a Canadian non-profit that provides support to Ukrainians in Ukraine and assists those who have been displaced by war.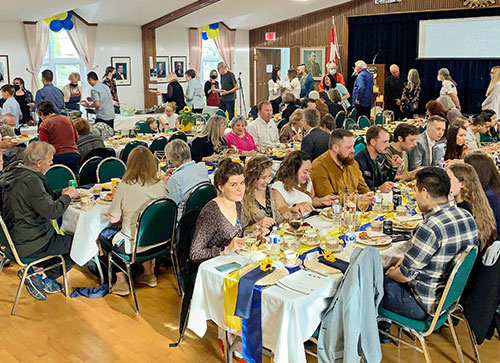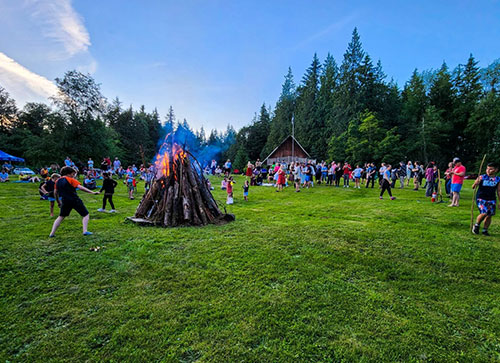 Birželio 25, BKLB nariai dalyvavo Vankuverio Estų bendruomenės organizuojamoje Vidurvasario šventeje, Joninėse, (Estiskai – Jaanipäev) vykusiose nuostabioje sodyboje Mission. Dalyviai vaišinosi vaišėmis, šnekučiavosi, dainavo ir šoko.
On June 25, members of the Lithuanian community joined the Vancouver Estonian Society for Jaanipäev (Estonian) or Joninės, otherwise known as Midsummer Day at their beautiful property in Mission for feasting, hiking, chatting, singing, dancing, and the traditional Midsummer bonfire.
Karaliaus Mindaugo Karūnavimo Dieną Sunset Papludimyje šventėme Liepos 6d, giedodami Lietuvos himną ir ruošdami bei vaišindamiesi šaltibarščiais.
Statehood Day (or Coronation Day), July 6, was celebrated this year on Sunset Beach with the singing of the Lithuanian National anthem, and the preparation—and eating—of cold beet soup on the beach.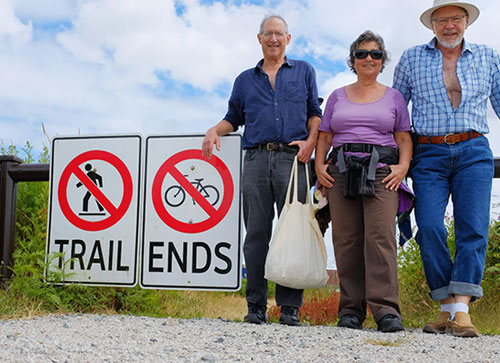 Mes pradėjome Walk n' Talks (Pasivaikščiojimai ir pokalbiai) seriją: valandą ar pusantros trunkančius pasivaikščiojimus po Lower Mainland, po kurių bendraujame alaus bare arba restorane. Mūsų inauguracinis Walk n' Talk pasivaikščiojimas įvyko liepos mėnesį; kitas planuojamas vėliau žiemą. Sekite naujienas ir laukite pakvietimo elektroniniu paštu.
We have instituted a series of Walk n' Talks—one to one and a half hour walks around the Lower Mainland followed by a social in a pub or restaurant. We had our inaugural Walk n' Talk in July, and another is planned for later this wintry season. Stay tuned for an emailed invitation!
Liepos 23 d. mūsų bendruomenė dalyvavo 23-iajame Europos festivalyje Maple Ridge mieste, pirmą kartą festivalis vyko nuo pandemijos pradžios.
On July 23, our community was represented at the 23rd annual European Festival in Maple Ridge, the first time this event was held since 2019.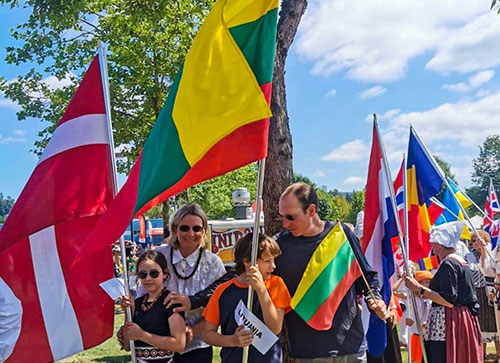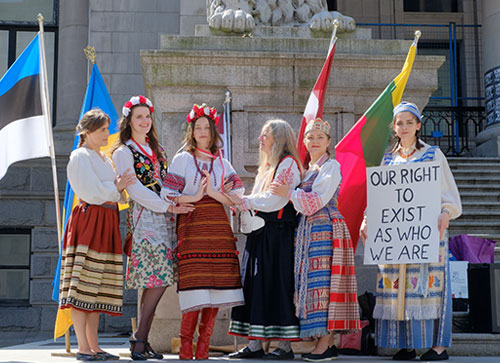 Baltijos kelias/Juodo kaspino diena įvyko rugpjūčio 21d. Šiais metais suplanavome daug didesnį nei įprasta renginį; suorganizavome daugiabendruomeninį renginį, Ukrainos palaikymui Šiaurės aikštėje prie Vankuverio Meno galerijos. Renginys buvo nušviestas Global BC, CTV, vietinėje spaudoje kinų kalba, o taip pat Baltijos šalių diasporos Kanadoje žiniasklaidoje. Tai buvo pirmas kartais kai penkios organizacijos susivienijo organizuojant tokį renginį. BKLB dėkoja šiems partneriams už bendradarbiavimą organizuojant šį renginį ir jo koordinavimą: Kanados ukrainiečių kongreso Britų Kolumbijos provincijos tarybai, Kanados lenkų kongresui Britų Kolumbijoje, Vankuverio estų bendruomenei, Britų Kolumbijos latvių bendruomenei bei Vidurio ir Rytų Europos tarybai Kanadoje.
Baltic Way/Black Ribbon Day, held August 21. This year we planned a much larger event than usual—a multi-community event held at the Vancouver Art Gallery North Plaza in support of Ukraine. This event was covered by Global BC, CTV, local Chinese-language media as well as being reported by the Baltic diaspora media in Canada. It was the first time five organizations joined together to co-produce this event, and LCBC acknowledges the following partners for their collaboration and coordination: The Ukrainian Canadian Congress BC Provincial Council, the Canadian Polish Congress British Columbia, The Vancouver Estonian Society, and the Latvian Community in British Columbia, with support from the Central and Eastern European Council in Canada.
Rugsėjo 9d. turėjome progos pasidžiaugti Lietuvių folklorine muzika, kurią akordeonu atliko vieno mūsų bendruomenės narių tėtis – Stasys Sargautas. Tai buvo proga padainuoti, pašokti ir pabendrauti kartu.
On September 9 we were treated to a concert of Lithuanian folk music performed on the accordion by Stasys Sargautas, the father of one of our community members—an opportunity to sing, dance, and socialize together.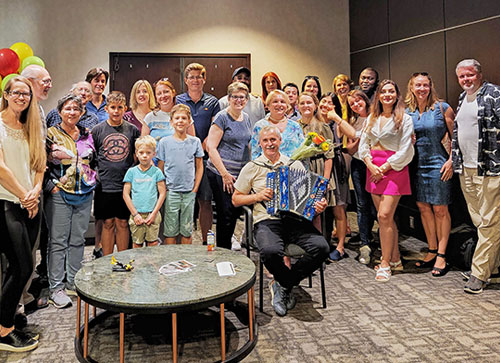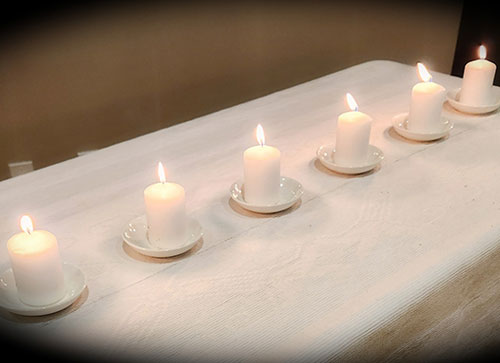 1994 metais Lietuvos vyriausybė paskelbė rugsėjo 23 dieną Lietuvos žydų genocido diena. BKLB Valdyba nubalsavo įtraukti rugsėjo 23d. į renginių kalendorių. 2022 m. organizavome šios dienos minėjimą Vankuveryje. Tai buvo pirmasis šios dienos minėjimas už Lietuvos ribų.
In 1994, the Lithuanian government declared September 23 as the National Memorial Day for the Genocide of the Lithuanian Jews. The Board of LCBC voted to include September 23 on our yearly calendar of events, and in 2022 we held this commemorative event in Vancouver—the first time this memorial day has been commemorated outside Lithuania.
Daugelis Jūsų dalyvavote fantastiškai sėkmingame lėšų rinkimo vakarėlyje – Cepelinų baliuje – lapkričio 19d. Renginio metu surinkome $4500 organizacijai Blue/Yellow for Ukraine JAV. Rima Žiūraitis, Vykdančioji Blue/Yellow for Ukraine JAV direktorė, buvo renginio kviestinė pranešėja, atvykusi iš tolimosios Čikagos žemės! Renginio idėją sumanė ir jį organizavo entuziastingi bendruomenės savanoriai.
Most of you attended the fundraising Cepelinai Party on November 19, which was a spectacular success! Proceeds will be donated to Blue/Yellow for Ukraine USA. Our Special Guest Speaker was Rima Žiūraitis, Managing Director of Blue/Yellow for Ukraine USA who joined us all the way from Chicagoland for the event! This event was conceived and organized by enthusiastic community volunteers.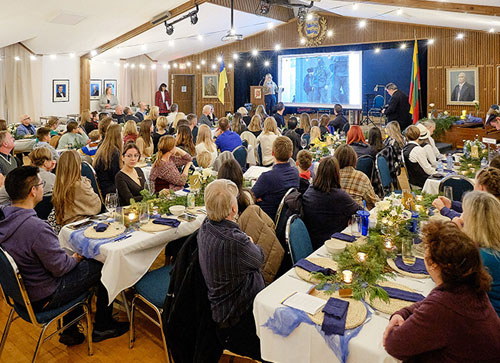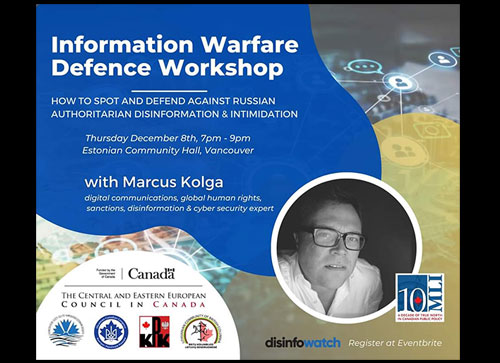 Gruodžio 8 d. BKLB ko-organizavo Informacinio karo gynybos seminarą kartu su skaitmeninių komunikacijų, žmogaus teisių, sankcijų, dezinformacijos ir kibernetinio saugumo ekspertu Marku Kolga (Marcus Kolga). Seminaras vyko Estų bažnyčios Foundation salėje.
On December 8 LCBC co-sponsored an Information Warfare Defense Workshop facilitated by Marcus Kolga, digital communications, global human rights, sanctions, disinformation and cyber security expert. The workshop was held at the Estonian Church Foundation Hall.
Ir pabaigai, Kalėdinis renginys vyko gruodžio 11d. Harbourside Park 1 Lounge Coal Harbour rajone. Tai buvo draugiškas bendruomenės vakarėlis su užkandžiais, gėrimais ir, žinoma, su Kalėdų seniu!
Lastly, our Christmas event held on December 11 at Harbourside Park 1 Lounge in Coal Harbour was a relaxed social evening with appetizers and refreshments, and of course Santa!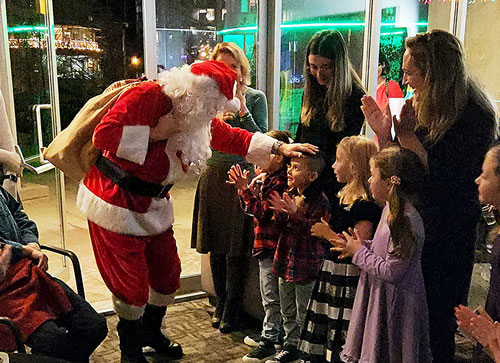 Nuoširdžiai dėkojame visiems savanoriams ir rėmėjams,
prisidėjusiems prie mūsų renginių ir iniciatyvų šiais metais!
We would like to thank all of our volunteers and sponsors
who contributed to our events and initiatives this year!
Sandra Ambrazavičiūtė
Linas Antanavičius
Andrea Berneckas
Danguolė Chandler
Gouri Chinnappa
Kristina Čiunkaitė
Lina Dubrindytė
Mark Evans
Maya Evans
Olivia Evans
Agnė Gudavičiūtė
Kristina Irrgang
Lina Holliday
Gene Homel
Kristina Jaugelis
Algis Jaugelis
Asta Jureliavičiūtė
Aneta Leščinskaitė
Teodoras Liauskminas
Vaida MacDonald
Birutė Macijauskas
Mantas Mankevičius
Rachel Mines
Asta Mott
Darryl Reimer
Daiva Ross
Neringa Sargautaitė
Eglė Šilinskaitė
Kamilė Šilinskaitė
Martynas Šmitas
Sara Turcios
Marina Turcios Jaugelis
Vidas Vitkus
Arūnas Zablockis
Melbarde-Carr and Žegunis families
All Occasions Décor
BCfresh and the family farms in Ladner
Eesti Kirikufond / Estonian Church Foundation
Vancouveri Eesti Selts / Vancouver Estonian Society
Linas Antanavičius, Barrister & Solicitor
LOVESPIRED Photography by Kristina Vanagaitė
Krivis Web Solutions
North Point Brewery
Red Square Bakery
Russell Brewing Company
Victorian Hotel Vancouver
Yellow Dog Brewing Co.
Pristatome 2023 metų valdybą!
Introducing our board of directors for 2023!
Algis Jaugelis, Prezidentas | President
Vidas Vitkus, Viceprezidentas | Vice President
Rachel Mines, Sekretorė | Secretary
Andrea Berneckas, Valdybos narė | Member at Large
Kristina Jaugelis, Valdybos narė | Member at Large
Egle Šilinskaitė, Valdybos narė  | Member at Large
Asta Rudzikienė, Valdybos narė | Member at Large
Gene Homel, Valdybos narys | Member at Large
The Treasurer vacancy will be filled from the existing directors at the first boarding meeting of 2023.
Nuoširdžiai dėkojame kadenciją baigusiems direktoriams
Martynui Šmitui ir Linai Holliday už šių metų indėlį.
We sincerely thank outgoing directors
Martynas Šmitas and Lina Holliday for their contributions this year.